HOW WE GOT HERE
Finding a solution for your club
Where it all began
As a direct result of our Co-Founder, Harry Riste, turning his Club around from a bleak financial outlook, using a collaborative approach to improve sustainability and grant income. The club is now on a strong financial footing and continues to develop participation across the board.
GrassRoots Power Community Interest Company was lunched in 2016 as a catalyst for a shift in sports facility management to a more sustainable future.
Co-Founded by volunteers who aspired to make a difference to fellow volunteers across the grassroots landscape, now in its 4th year, GRP is ready to support you and your club reach its goals.
Influencing Clubs, Leagues, County FA's, The FA, Football Foundation and even Sport England, GRP now supports clubs, schools and other organisations across multi disciplines.
GrassRoots Power Timeline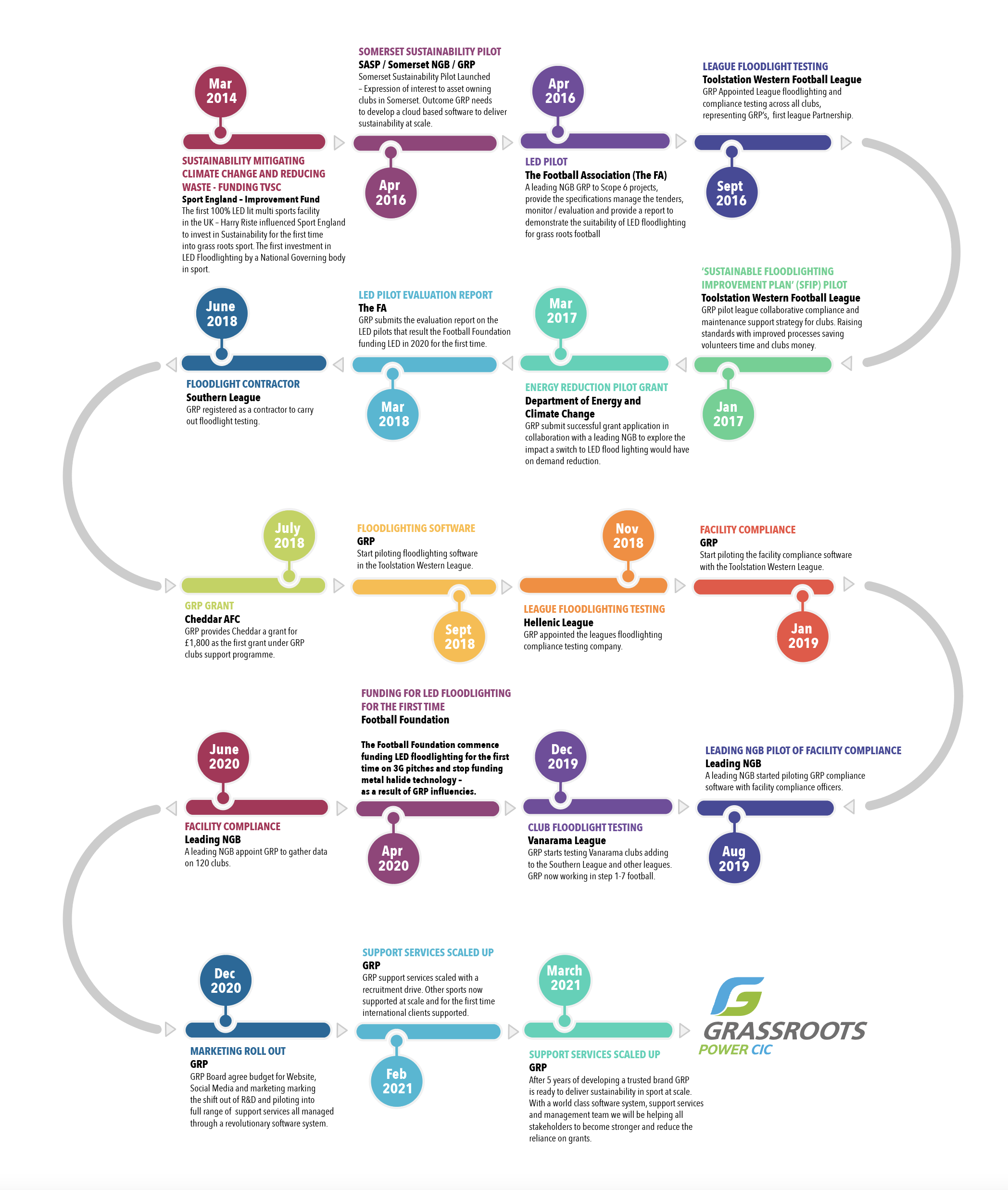 "I still don't quite know how he has managed it, but GrassRoots Power has successfully, and simultaneously, aligned the ambitions of our Club, with those of the FA and DECC and achieved, for us, the most incredible possibility. 
From struggling to fund and project manage an install of (decent, yet ultimately outdated) metal halide floodlights, we are now only days away from achieving the planning consent and receiving the final offer letter from the FA, confirming the upcoming install of our new high-specification LED lights. Really quite remarkable, and the result of our putting trust in the expertise of a very driven and sincere team, who has not only helped us with funding, but taken all of the pain out of the tendering process, ensuring the right specification for us and keeping all stakeholders up to date."
Chris Fenner, Chairman, Tavistock AFC